Are you looking for the best uploaded premium link generator? Then this is the right place for you. In this article we're going to talk about the best uploaded premium link generator options, both free and paid / premium.
Most of these are leeching sites rather than just file hosting services. Along with all of their useful features, leech sites are also good file hosting services and you can get access to both free and paid versions.
Top 5 Premium Link Generator
If you are in a hurry - here are the top 5 premium link generators.
The money you spend on such services is more than worth it because such services have various uses for most people. After this article, you'll know the best options out there so you can start using the best uploaded premium link generator for your own needs.
It is highly recommended that you conduct thorough research before using any premium link generator. The reality is, you will find many different types of premium link generators on the internet. 
There are premium link generators such as Nitroflare Premium Account, Keep2Share Premium Account, Data File Host, and more. 
While many people have already been using file-hosting sites for a long time, since the launch of cloud storage, the majority of users have shifted to premium link generators.
What is an Uploaded Premium Link Generator (Leecher)? 
Premium link generators are programs or websites that allow you to download files from premium file-hosting sites such as Uploaded, Turbobit, and many others without having to get premium accounts. You can download these files easily and for FREE at very high download speeds.
In simple words, a premium link generator provides you with the premium link of a file without requiring you to have a premium account or paid access. 
This means you get all of the benefits of a premium user for free while also using it on any device you prefer.
Benefits of using a Premium Link Generator or Leechers
If you download a large number of files from the internet, you will probably require a free, stable premium link generator in your portfolio. While some people make use of torrents, IDM, and premium file hosts, others will use the premium version and download from premium file hosts.
Through our research, we believe that the best method for downloading is to use Internet Download Manager using one of the below link generators. 
That is because it is faster and (unlike torrents) files are not dependent on the number of peers and seeds.
Many people upload files to file hosting websites, which come in both free and premium versions. Premium file-hosting sites are the best for both uploaders and downloaders because they provide more security, speed, storage, together with other premium features.
Since not everyone is willing to purchase premium accounts on all premium hosting websites, the demand for premium link generators has increased significantly. 
What are leechers, leech sites or leecher sites?
Previously, premium link generator services were referred to as leecher, leech sites or leecher sites. Some people still refer to them using these names, but their more common name these days are premium link generators.
They are also sometimes known as uploaded premium linkers.
Best 19 Premium Link Generators and Leechers in
2023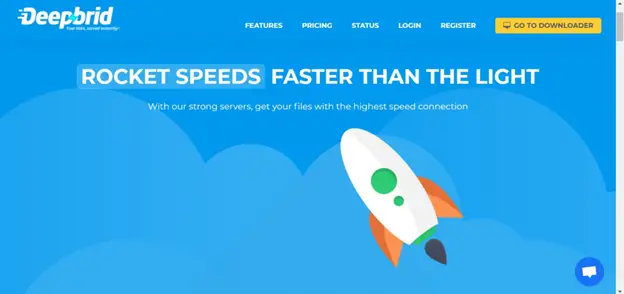 Deepbrid is another well-known link generator site that you can use to download premium links as well as links from other websites, with another favourite service being the Nitroflare premium link generator 1GB. Deepbrid is one of the top free premium link generators and probably the best overall. It is because you can download five files with a maximum size of 1.2GB per file without having to register as a free user.
Users can choose to use the free version of this Premium Link generator. But, they also have plans for paid membership. The premium plan includes customer support 24 hours a day, 7 days a week, access to more than 80 file hosting sites, unlimited bandwidth, unlimited link generation, video streaming, and remote upload.
Here is their premium pricing plan:
30 Day Plan - €4.99
90 Day Plan - €12.99
180 Day Plan - €19.99
365 Day Plan - €32.99
It comes with many premium features that provide great advantages. To do so, you must first create a Deepbrid account. This service supports Uploaded, Ddownload, Filenext, Nitroflare, Filefactory, Uptobox and many more. Currently they have support for more than 80 filehosting services, serving them at your disposal in a single Deepbrid account.
It's simple to use. All you have to do is, simply paste the premium link into the homepage and you'll be given a link to download your file.
Free Hosters:
1fichier
4shared
ausfile
ddownload
easybytez
extmatrix
filefactory
filenext
jumploads leech
hitfile
katfile
littlebyte
mediafire
mega
prefiles
rapidrar
uploaded
uptobox
wdupload
wushare
youtube
zippyshare
Premium Hosters:
1fichier - Unlimited
4shared - Unlimited
alfafile - 10 GB
ausfile - 20 GB
backin - Unlimited
bayfiles - Unlimited
bdupload - Unlimited
big4shared - 20 GB
buenastareas - Unlimited
calameo - Unlimited
clicknupload - Unlimited
dailymotion - Unlimited
dailyuploads - Unlimited
datafilehost - Unlimited
ddownload - 20 GB
depositfiles - 5 GB
docs - Unlimited
easybytez - 50 GB
extmatrix - Unlimited
fastshare - Unlimited
file - 10 GB
file4safe -  Unlimited
filefactory - Unlimited
fileflyer - Unlimited
filenext - 8.00 GB
filer - Unlimited
filerio - Unlimited
filescdn - Unlimited
firedrop - Unlimited
fireget - Unlimited
flashx - Unlimited
free - Unlimited
gigapeta - Unlimited
hitfile - 20 GB
hotlink - 8 links
hulkshare - Unlimited
icerbox - 10 GB
inclouddrive - Unlimited
indishare - Unlimited
issuu - Unlimited
jumploads - 8 GB
k2s - 5 links
katfile - 15 GB
littlebyte - Unlimited
mediafire - Unlimited
mega - Unlimited
mexashare - 12 GB
nitroflare - 300 GB
oboom - Unlimited
prefiles - Unlimited
promptfile - Unlimited
racaty - Unlimited
radiotunes - Unlimited
rapidrar - Unlimited
rapidvideo - Unlimited
rutube - Unlimited
salefiles - Unlimited
scribd - Unlimited
sendit - Unlimited
sendspace - Unlimited
slideshare - Unlimited
solidfiles - Unlimited
soundcloud - Unlimited
takefile - 5 links
turbobit - 10 GB
tusfiles - Unlimited
unibytes - Unlimited
upload - Unlimited
uploadboy - Unlimited
uploaded - 60 GB
uploadgig premium link - 5 links
uploadrocket - Unlimited
uptobox - Unlimited
userscloud - Unlimited
vidoza - Unlimited
vimeo - Unlimited
wdupload - 5 GB
worldbytez - Unlimited
wushare - Unlimited
xubster - Unlimited
youtube - Unlimited
zippyshare - Unlimited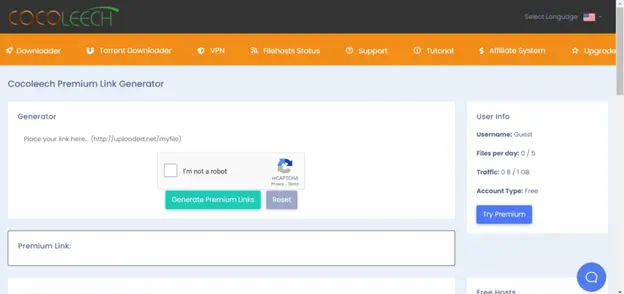 Cocoleech is one of the most effective premium link builders. Cocoleech comes in two versions. You can either use the free version or the paid option. 
There are many advantages of using the free version of the Cocoleech link generator and leecher. They have a good niche interface which makes it very easy to use. You can also create many links with the free version before you need to upgrade. 
The premium version has many extra useful features too, so we encourage you to visit the website to see the comparison of features between the free and premium version.
The premium plan also includes customer service that is available 24/7, access to more than 20 file hosting sites, unlimited bandwidth, no ads or pop-ups, and a fast download speed. Depending on which premium plan they choose, users earn loyalty points.
Cocoleech has a number of premium plans you might also want to check out, please see there prices below:
Weekly Premium - $4.99 (500 Loyalty points)
Monthly Premium - $7.99 (1,000 Loyalty points)
3-Month Premium - $19.99 (3,000 Loyalty points)
6-Month Premium - $35.99 USD (6,000 Loyalty points)
Yearly Premium - $55.99 USD (10,000 Loyalty points)
Currently Supported hosts:
Uploaded.net - 20 GB
wdupload.com - 20 GB
Nitroflare.com - 5 GB
Goloady.com - 20 GB
Jumploads.com 20 GB
K2s.cc - 2 GB
Katfile.com - 20 GB
Emload.com - 20 GB
DDownload.com - 15 GB
Daofile.com - 2 GB
Filesmonster.com- 5 GB
1Fichier.com - 20 GB
Prefiles.com - 10 GB
Turbobit.net - 5 GB
Upstore.net - 3 GB
Alfafile.net - 10 GB
Userscloud.com - Unlimited
Mega.nz - Unlimited
Tusfiles.net- Unlimited
Zippyshare.com - Unlimited
Soundcloud.com - Unlimited
Mediafire.com - 10 GB
Sendspace.com - Unlimited
Filenext.com - 5 GB
Datafilehost.com - Unlimited
Indishare.org - Unlimited
Filer.net - 10 GB
Clicknupload.org - Unlimited
Rapidrar.com - Unlimited
Anonfiles.com - Unlimited
Filefactory.com - 3 GB
Openload.co - 5 GB
Wupfile.com - 3 GB
Upload.ee Unlimited
Uppit.com Unlimited
Drop.download 5 GB
Mixloads.com 5 GB
Depositfiles.com 5 GB
Fastfile.cc 5 GB
Easybytez.com 5 GB
Bayfiles.com Unlimited
Extmatrix.com 10 GB
Subyshare.com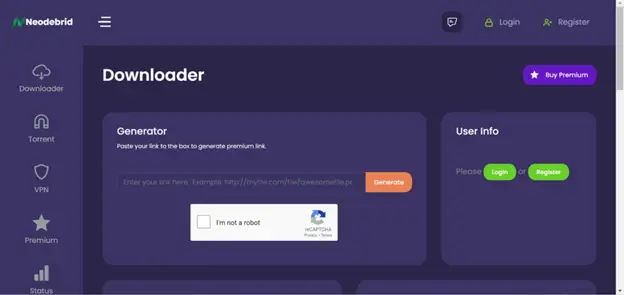 Neodebrid is a free multi-hoster, VPN, and debrid service that lets you download files from anywhere. Neodebrid is a verified working premium link generator that offers its premium users free support as well as improved service and download benefits.
You must first register on the premium website in order to use this link generator. 
It's also possible to use both as a guest or to pay for a premium subscription. If you upgrade to a premium account, you'll get unlimited traffic, a VPN, unlimited speed, and many more benefits.
You will also receive a free 1GB storage space that you can use to make money through downloads.
Free Hosts:
Uploaded.net - 1024 MB
Nitroflare.com p - 256 MB
Mega.co.nz - Unlimited
Wdupload.com - 400 MB
Easybytez.com - Unlimited
Zippyshare.com - Unlimited
Filer.net - 5 GB Disabled
Anonfiles.com - Unlimited
Wupfile.com - 512 MB
Goloady.com - 1 GB
Katfile.com - 5 GB
DDownload.com - 5 GB
Jumploads.com - 1 GB
Premium Hosts 
Uploaded.net-  15 GB
Nitroflare.com - 3 GB
Mega.co.nz - Unlimited
Wdupload.com - 10 GB
Easybytez.com - Unlimited
1Fichier.com - Unlimited
Alfafile.net - 10 GB
Turbobit.net - 5 GB
K2s.cc - 2 GB
Userscloud.com - Unlimited
Tusfiles.com - Unlimited
Youtube.com - Unlimited
Zippyshare.com - Unlimited
Uptobox.com - 10 GB
Mediafire.com - Unlimited
Sendspace.com - Unlimited
Soundcloud.com - Unlimited
Srfiles.com - Unlimited
Filenext.com - 5 GB
Datafilehost.com - Unlimited
Indishare.me - Unlimited
Clicknupload.cc - Unlimited
Rapidrar.com - Unlimited
Filer.net - 5 GB
Anonfiles.com - Unlimited
Wupfile.com - Unlimited
Upload.ee - Unlimited
4Shared.com - Unlimited
Uppit.com - Unlimited
Goloady.com - 10 GB
Katfile.com - 5 GB
Dropapk.to - 10 GB
Daofile.com - 5 GB
Fastfile.cc - 5 GB
Mixloads.com - 5 GB
DDownload.com - 5 GB
Jumploads leech - 10 GB
This is the most well-known Premium Link generator among marketers. They have excellent servers and can assist you in getting the most out of the premium features. 
They don't have any premium plans. Hence, you can use all the features of this free link generator. There primary supported hosts are turbobit, letitbit and uploaded.
Leech All is an online premium link generator that is used by people all over the world. The premium link can be generated for free by using the Leechall.com website. 
Leechall is a free premium link generator that lets you download up to three files without having to register. As a free user, you have a file size limit of 10GB per link, allowing you to download up to 30GB.
Turbobit, Datafile, Depfile, 1fichier, and many others are supported. After 8 hours, the files are automatically deleted which is a popular feature offered here.
Supported Hosts:
1fichier.com
4shared.com
alfafile.net
chomikuj.pl
clicknupload.cc
cloudghost.net
daofile.com
ddownload.com
depositfiles.com
dropapk.to
dropmyfiles leech
easybytez.com
emload leech
ex-load.com
extmatrix.com
fastbit.cc
fastclick.to
fastfile.cc
file.al
filedot.xyz
filefactory.com
filejoker.net
filenext.com
filespace.com
flash-files.com
florenfile.com
flyshare.me
goloady.com
hitfile.net
hotlink.cc
icerbox.com
inclouddrive.com
isra.cloud
jumploads leech
katfile.com
kshared leech
littlebyte.net
mega.nz
mexashare.com
nelion.me
novafile.com
prefiles.com
rapidu.net
rosefile.net
secretfile.net
spicyfile.com
subyshare.com
takefile.link
tezfiles premium link generator
turbobit.net
ubiqfile.com
upload-4ever.com
uploadboy.com
uploadcloud.pro
uploaded.net
uploadgig premium link generator
uptobox.com
vipfile.cc
wdupload.com
wipfiles.net
world-files.com
worldbytez.com
wupfile.com
wushare.com
xenupload.com
xubster.com
This is primarily a free premium link generator that includes server usage, statistics, server host, server limit, and traffic usage. As a result, this displays the server's limit, allowing you to quickly switch to another premium file hoster if one stops working. UploadedPremiumLink.net allows you to retrieve any data from the cloud like cloudghost.net, mega.nz, prefiles, anonfile, filefactory, but also many other hosts.
With a server limit of more than 6GB, the best premium file hosts you can download from this site are uploaded.net, FileFactory, MEGA, ifichier, and Uptobox. 
They also give you a lot of data for your files. However, there is one drawback to using this site. There are a lot of ads before they give you the generated link.
Even though Hungry Leech only has four hosts, it is well-known for providing excellent service. It supports four hosts: NitroFlare, FileBoom, and Depositfiles. 
This is also a completely free service. It also has a fast download speed. It's fairly simple to use without much fanfare.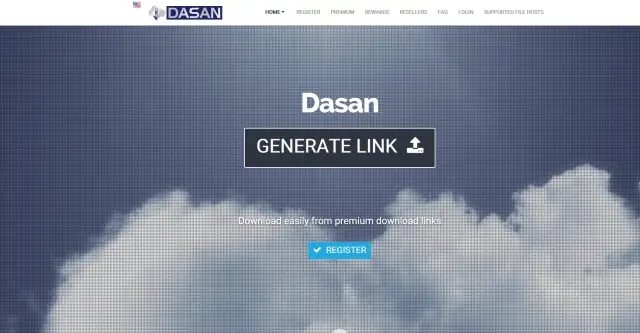 Dasan.co is a low-cost premium link generator that lets you create an unlimited number of premium links from more than 50 file hosts and download them at high speed. Some of the premium file hosts supported are
uploaded.net
filespace.com
turbobit.net
etc
When you register on this site you will get 5 GB free for downloads from torrents and usenet, with both of these supported at a 30% discount.
If you want to go for a paid plan, they start from just $2.99, although they also have a free plan.
2.99$ for 35 GB
5.99$ for 115 GB
14.99$ for 310 GB
26.99$ for 600 GB
33$ for 1000 GB
50$ for 2000 GB
Their plans have no time list, instead they work with a quota, i.e. the download size you pay for.
One feature we liked on this site is the Advanced File Manager which allows you to manipulate files like compressions, splitting before starting your downloads.
To use Dasan is very simple:
First, register an account with Dasan.
Get a plan from the above
In your account, click the button "generate link"
Enter your link in the box and click the transfer file button
Soon you will get the generated link which you can use to download.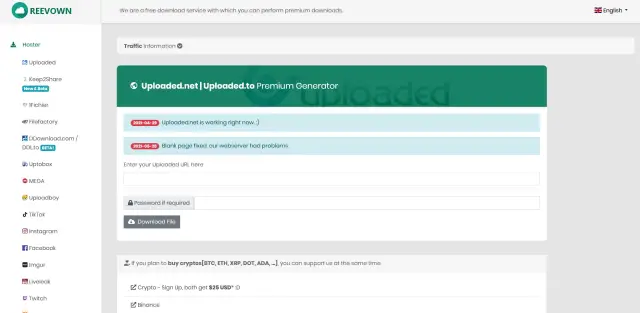 Reevown is a free download service that lets you get premium content for free. Reevown has a dedicated uploaded.net generator with 84 mirrors and 63TB of storage space. Users can download up to 1GB of data for free every hour on various mirrors. 
This implies that as a premium user, you have full access to download uploaded files using this uploaded link generator.
Reevown's website has been renamed Reevown Cloud. They updated their interface, and Reevown Cloud now displays traffic information, which informs users of the amount of GB they can use per premium host.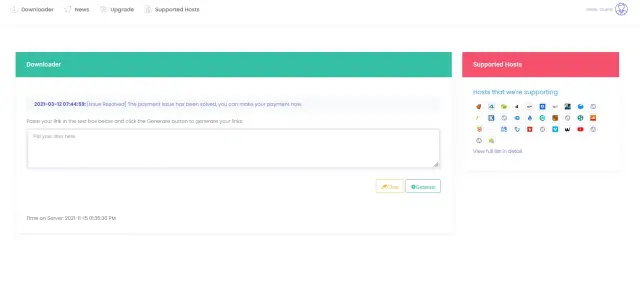 HyperDebrid is available to all users for free. You do not need to register in order to use their premium generator services for free.
Moreover, they support 34 different hosting sites from which you can download.
11. Leech Ninja - Keep2Share Premium Link Generator 
You should definitely check out leech ninja premium link generator.
It's another great alternative to other free link generators that we've reviewed, and is owned by the same company as the previous link generator we reviewed, Hungry Leech.
They have a lot of great features that they're offering. If you need to check it out for yourself, you can do so here.
Leech Ninja supports several link generators such as: NitroFlare, Keep2Share, Uploaded etc.
12. Big Speeds now know as Link Snappy
Big Speeds Link Generator was an online generator for generating links for your download needs. They have recntly been acquired by LinkSnappy and are now a premium service which is great because this means they will keep the service active.
They offer a variety of different services, including their online storage and download system. 
13. DebridLeech - Premium Link Generator
You can get a free premium generator links from DebridLeech free debrid premium link generator.
This company has access to 140+ sites and contains some of the most popular file hosting sites such as FileFactory, Filer, FilesFlash, Alfafile, Datafile, Mega, DepositFiles, Turbobit, 4shared, 
You don't have to register or signup with DebridLeech just to download your files.
14. AllDebrid - Oldest Service
This service has been around for quite some time, more than 10 years in fact. It is a French multi-hoster and premium link generator where users can generate links and also download at high speeds from over 77 file hosts and almost a thousand streaming platforms. 
When it comes to being secure, Alldebrid is very both reliable while being quite reasonably priced and works very well both on desktop and mobiles. It also has direct streaming as a feature.
Alldebrid comes with several tools including browsers addons, direct streaming, torrent file conversion, support for download managers and much more!
15. AnyDebrid
This is another Keep2Share Free premium link generator no registration required for uploaded, nitroflare, keep2share. 
In order to use the services provided by AnyDebrid, there is no need to register an account with them.
For large files, this premium link generator is a great choice. It is also easy to use, and it makes it easy to store files. And users don't have to deal with ads every minute. Which one is really cool?
But you have to sign up to be able to use this premium link generator. But this premium link generator has affordable premium plans with unlimited traffic, parallel downloads, and high-speed downloads. It works with a total of 50 file hosting sites that charge for hosting files.
It also offers premium link generator plans:
15 Day Plan - €3.00 Euro
30 Day Plan - €4.00 Euro 
90 Day Plan - €9.00 Euro
180 Day Plan - €16.00 Euro
17. 10-DOWNLOAD. - No longer available
10-Download has the most simple and straightforward layout. It's easy to use because there are no interruptions other than advertisements. 
It's as easy as going to their website, copying and pasting your link, getting the download link, and downloading. 10-download only supports two hosts: Uploaded.net 1 and 1fichier.
This service is no longer avaiable.
18. PREMIUMZEN - No longer available
PremiumZen is built on the principle of simplicity. They believe there are only three steps to using a premium link generator: search for files, copy the link, and download the file. 
However, they support only a few premium file sharing sites, i.e: Uploaded, UptoBox, Uploadgig premium link generator, Mediafire, and Turbobit.
This service is no longer available
19. HarBlaze Link Generator - No Longer Available
Free Harblaze premium link generator supports lots of file hosting services, such as Dropbox, Google Drive, Box, Mega, and more. They also support lots of free user accounts, which may be a good reason to pick them up.
It is a great service that will help you find any type of file you want, and also help you download them in bulk. The file hosting sites it supports include; filefactory, filer, filesflash, alfafile, datafile, gigapeta, hitfile, MediaFire, mega, datafilehost, Depositfiles, fichier, uploaded, userscloud, youtube, zippyshare, oboom, openload, tusfiles, salefiles, share-online, turbobit etc.
In order to use the services provided by HarBlaze, you will first have to register an account with them.
20. GENERATORLINK PREMIUM - No longer available
This is a premium link generator that is completely free. You can see the box where you can add the link to the homepage. 
Simply paste the link into your browser and you're ready to go.
21. Leech360 - No Longer Available
This premium link generator gives its users three main things: safety, high quality, and a virtual private network. And it lets you get to more than 80 sites that host files.
Users can choose to use the free version of this Premium Link generator. Still, they have plans for paid membership. The premium plan has unlimited host, unlimited file size, streaming support, high data security, 24/7 customer support, unlimited bandwidth, unlimited link generation, and high-speed download.
Looking for a job, check Jooble.
Premium Link Generator FAQs
What is the process of generating a premium link?
A premium link generator is a web-based service that connects a web user to a file hosting service. When you link to a file, a new download link is created for you, just like if you were a premium user.
What is the best way to use a premium link generator?
This website contains details on the best free premium link generator, which we selected from a large number of options.
Is it possible to download at full speed?
Yes, as long as your internet connection permits. 
Wrapping Up
If you need to download a file and come across a link to uploaded, turbobit, or another premium file sharing website, don't be discouraged or hesitant to use such services. To make your downloading life easier, start using a free premium link generator or leecher today.
One more thing... Did you know that people who share useful stuff like this post look AWESOME too? ;-)
Please leave a useful comment with your thoughts, then share this on your Facebook group(s) who would find this useful and let's reap the benefits together. Thank you for sharing and being nice!

Disclosure: This page may contain links to external sites for products which we love and wholeheartedly recommend. If you buy products we suggest, we may earn a referral fee. Such fees do not influence our recommendations and we do not accept payments for positive reviews.