We live in an image based world. Look around and you will see that we are surrounded with visuals. The online world is no different. Everything from websites to articles to advertisements – images are everywhere. So your content needs images to stand out. But where do you get great images from? Well, this is where free image sites start to make sense.
The constant need for visuals leaves content creators in a bit of a quandary because they are always looking for new images. This can be costly as many of the best ones come with a price tag.
Thankfully, there are many sites where images can be accessed at no charge. Below we have created a lengthy list to start exploring today for the best free images and free image sites.
Incidentally, if you're looking to get stunning great photography, you might want to think about buying a drone.
 This website created this list after struggling to find great images to use on our own site - we did this free images sites list for us.
Before you start adding images to your site, to beautify your theme make sure your website is on a good fast hosting server, otherwise, heavy images can overwhelm your website. We do suggest you have a look at our InMotion hosting review (what we use for our hosting) here: https://www.collectiveray.com/inmotion-hosting-review
Free Image sites with Free Stock Photos
We'll start this article with a list of free image sites that excel in providing stock photos at no cost.
There are thousands of stock photos available on this site that are completely available to use. Imagery variety is strong and you can find everything from nature to travel to animals.
This site offers something for everyone with over 2.7million+ images that include photos, vectors and illustrations. Attribution is not required and visuals can be used for websites, eBooks, and any other project.
3. Free Images from Burst
Burst by Shopify is a collection of free stock photos for websites and commercial use.
This site offers thousands of unique photos and they are constantly updating their offerings with new imagery. Their library is particularly useful for users who have a need for picture content that is off the beaten path.
No matter what the need, this website offers tens of thousands of different stock photography that can be used by designers, illustrators and content creators. Projects and presentations stand out with unique visuals not found elsewhere.
StockVault is a free stock photo community where photographers & artists share their photos and artworks with people from all over the world. Some great free stock images here.
Not sure how many images are on the site, it's got infinite scrolling and we did not reach the bottom :) But they do say that they have "millions". Quite a lot of stunning imagery, license is CC0, so you've got no stress in using these pictures!
Picjumbo offer thousands of eye-catching photos for every project you can think of without any fees or need for attribution (though if you choose to provide it they do appreciate it). 
PIKWIZARD has over a million high quality, free stock photos, images and videos that are royalty-free and available for commercial use without attribution. What more could you ask for?
This is a very creative place, rather than your run of the mill stock photos. If you're looking for something different, you're bound to find it here.
11. reshot - free image sites without a stock feel
reshot feature hand-picked, non-stocky images that you are free to use as you wish.
Crisp, high-quality stock photography can be found on this website. All images fall under Creative Commons so you can use them without the need for attribution.
Lots of hi-res photography of all types of food. Besides getting your photos, you're probably going to get hungry too ;-) CC0 License.
As the name suggests, this is a collection of free stock photos, free to use in both personal and commercial projects.
Picography is another Hi-Resolution photo website. With a tagline like Use them however you like - you know you're safe :-)
With over 196 million free and paid images, Dreams Time is one of the largest photo-sharing sites on the internet. While a lot of the images are paid, they do have an extensive freebie collection.
Another royalty-free image sharing website. They have a large photo-sharing site that allows users to share their photos for business and personal use. This includes using them for web, print, eBooks, books, and other media.
Millions of free stock photos come from all over the world to provide photography shots on FreeImages. You can use this for your commercial web design projects, or as additional images on your blog. 
Thousands of high-quality, high-resolution stock photography. All imagery is at least 2400 x 1600 and can be used for both commercial and personal projects. Additionally, they offer a revenue sharing program through Google AdSense.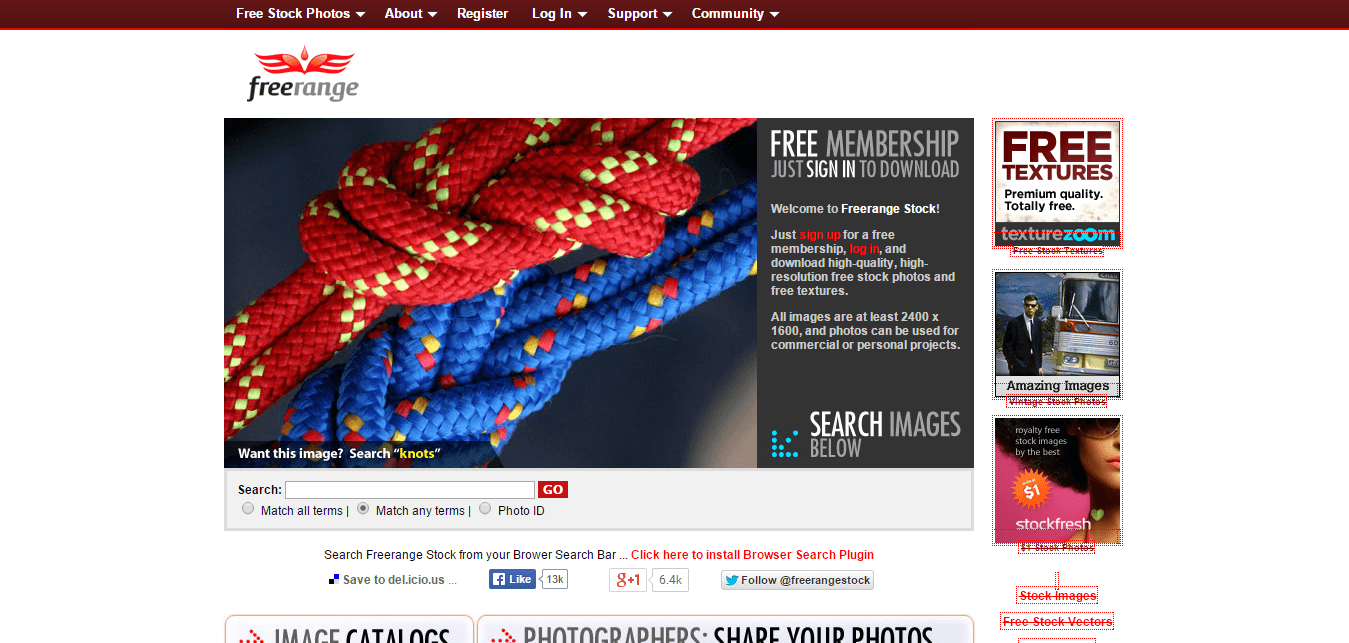 A huge gallery of high-resolution free stock photography that can be used in all types of projects. New imagery is added regularly so it makes sense to check back often. 
A repository for public domain images from around the web. Users have the option to not only use the imagery in their own projects but can also add their own photography and earn money from them. 
A website created by a group of creative individuals from around the world who work in photography and graphic design. They offer a plethora of unique images and are constantly expanding their image offerings. More than 120,000 stock photos available. 
Anyone who has a particular need for government-related photography and imagery will find a goldmine here. Their extensive library is comprised of thousands of visuals that can be used without charge.
In addition to offering over 1,111 free stock photos, they also have a library of videos that users can download. All photography and imagery can be freely used without a need for attribution of any kind.
StokPic allows you to do anything with their photography except redistribute them.
Amateur photographers from around the world have contributed beautiful imagery from every country on earth. Individuals looking for pictures to use in travel-related projects will find this website particularly useful.
They deliver monthly imagery right to your email inbox. Whether it be blog posts or social media or anything in between, these stock photos can be used freely in commercial and personal endeavors.
Kaboom pics is run by a web designer from Poland who knows it's quite difficult to find high-quality photography without paying. Since she's passionate about both photography and web design, she's decided to share her own photography for those who need awesome imagery.
The good thing about albumarium is evident in its name - everything is sectioned into albums. So you'll find plenty of "themed" beautiful imagery for download. Images are released under a CC0 or CC2 Attribution license.
Mostly about travel photography, but lots of stunning photography which you can use any way you want to as they are all CC0.
So essentially, these are high-quality photos for creatives - according to the tagline of the site. The imagery is available for personal and commercial projects, but they have their own terms, so go through them and make sure you're fine with their terms. Not particularly restrictive, it's what you would expect.
Startup Stock Photos features photography for startups, bloggers, publishers, websites, designers, developers, creators, and everyone else who might need them. All imagery is released under a CC 4.0 Attribution license. 
Another site where you can what the heck with you want with the photography! 
This Portughese guy decided that every photo should be available for anybody to use, so he started with his own photography. CC0 - so usage is not restricted.
This website on our list of free images sites has tons of imagery of mountains, rock formations and other similar types of stock photography are definitely a strong suit for this site. One factor that should be noted is that they do require that attribution be given when using any image from their site.
Anyone needs vector graphics and/or icons will love this website. They offer hundreds and hundreds of images to choose from that are all very nicely done.
This free images site offers a giant assortment of stock photography that is without any copyright restrictions. Their talented network of photographers contributes new imagery every week so check back with them often.
You have come to the right place if you have a need of vintage photography. The collection on this site is quite extensive and imagery can be freely used.
Catering to those looking for travel related stock photography, this site offers over 4,000 travel stock images with a particular focus on the UK. All imagery is available to use as needed. 
This website acts as a tool for finding images and other content that is available to use. Many of the listings in our free images sites roundup are CC sites so this can be a good place to start your search
This site is a database of over 88 million images that are available to use both personally and commercially. Another top entry in our free images sites list.
Over 335 million, premium, royalty-free stock images are offered on this page for users. The search bar makes it easy to find exactly what you want.
This is a site that is a search engine for imagery. There is really no limit to the number of pictures and graphics you can find but users do need to keep in mind that they will need to check the license for each image as they can differ in terms of use.
Another website that acts as a search engine for images. Their results include both free and paid images that can be easily accessed inside from inside the site.
Good stock photos is exactly what it says on the label! A bunch of good stock photography for your website, including plenty of great nature shots for your website's backgrounds.
If you want to get your free photos by email, the sites below actually send a roundup via their newsletter. 
Beautiful, vibrant and rich stock photography for all of your project needs. New imagery is no longer being added unfortunately due to the death of the site owner.
Although they do not offer thousands of stock photos, what they do provide is top notch quality. Seven new images are added weekly and sent directly to the email inbox of those who get their subscription service.
This is a stock photo site that also delivers 7 new weekly images to its subscribers email inbox. All imagery can be used without any licensing limitations.
Another site providing a high-resolution photo every day. Photos are released under CC0 or CC2 licenses. If you look at the Editor's you'll find some excellent imagery - take it from us!
IM Free has more than just pictures, it is about freely available web design resources which are available for commercial use. But there is a great collection of stunning imagery which you can use, so hoard away!
Another photographer sharing his great photography. They are all CC0
Photos here are released under CC 2.0 Attribution license, so of course, you need to give the right attribution to authors for the photography which you use.
Finally on our list of free images sites is Freepik. This site offers high-quality content: illustrations, photos, icons, mockups, and presentations templates. There are 15,013,000+ high quality stock photos available for users.
Frequently Asked Questions about Free Images Sites
What are royalty free images?
Royalty free images is is a type of license used by stock photography agencies to sell stock images, without having to pay for the images every time it is used. This license type grants the buyer a determined set of rights to use the image in multiple ways, for a flat, one-time fee, rather than with a royalty fee (payment each time it is used).
What is a CC0 license?
A CC0 or Creative Commons License is a license given to a work created by someone in order to help users of that work to know what can be done with that work. CC0 works have the least restrictive form of license, allowing anyone to download, use, change, display, or otherwise build on any work that holds the CC0 license without any risk.
What is a stock photo?
A stock photo is a professional-grade photograph or image that is available agaist a fee (or for free) for a variety of purposes. The photographer (or the stock photography distributor) keeps the ownership of the images and has the right to reserve how each image can be used.
Final Thoughts
With more than 50 sites to choose from, you have a valuable resource that will provide a never-ending supply of the exact images you need to make your content dazzle. Think about the images that will engage your audience and grab them. With so many to choose from, why not take your content up another notch? Even with our massive list of free image sites, you might still want to have a look at a few more, here is a list of best stock photography sites comparing various agencies and sites which we have mentioned here and which you might find useful for you.
One more thing... Did you know that people who share useful stuff like this post look AWESOME too? ;-)
Please leave a useful comment with your thoughts, then share this on your Facebook group(s) who would find this useful and let's reap the benefits together. Thank you for sharing and being nice!

Disclosure: This page may contain links to external sites for products which we love and wholeheartedly recommend. If you buy products we suggest, we may earn a referral fee. Such fees do not influence our recommendations and we do not accept payments for positive reviews.