Create a professional site without coding with Divi 3.0 Theme and Visual Builder
How many times have you thought of a theme, a real ready-made one that you could happily customize the way you wanted to? We thought of it, many-a-times. And then the universe conspired, and we bumped over Divi 3. It was love at first sight, and we are still celebrating our honeymoon phase with this awesome WordPress super-theme by Elegant Themes. Here's our full Divi 3.0 Theme Review, an excellent combination of a premium WordPress theme and Visual Builder.
Get a 10% discount from ElegantThemes (Limited Time Only)
Divi 3.0: Introduction video
If you want to get a quick overview of what this plugin is all about, this video says it all. "If you had to describe this plugin in one simple word: Magic." This video offers a tiny glimpse at the new Divi 3 Visual Page Builder. If you are into web design at all, you should definitely consider it for your website.
Sneak Peek Undo, Redo & Revision History
Divi 3.0 Review
By now you probably know that the theme/pagebuilder been out for a while, in fact, this is actually a Divi 3.0 review - that means that there have been many iterations before it. This also explains the fact why this theme is such a refined theme. But let's discuss now a little bit the features we expect to see in this new iteration.
A new visual page builder experience. ElegantThemes have been hard at work creating a new version of the Visual Builder. Essentially, rather than having a backend version and a live version, the two will actually blend into one and the same thing. The live back-end editor will actually be showing the live version too. This means that you'll be designing a completely What You See is What You Get page. No need to switch back and forth between the live version and the backend version. With version 3.0, these are interchangeable.
Drag & drop + responsive. Of course, the next big thing in Divi 3 is that rather than editing a visual representation, you'll be working on the actual live blocks. You'll be dragging the actual pieces of content. And of course, everything is still fully responsive.
No refresh - instant visual updates. The new v3 PageBuilder is actually powered by React, and a new paradigm in real-time visual experiences, which ensures that anything you do is updated on the fly. You don't have to perform any page refreshes.
Everything is in real-time!
On to the actual review
The one thing that is holding this love to be a forever thing, is, of course, the awesome page builder that was initially born out of the Divi theme, and has recently become a WordPress plugin in itself.
We have used the theme and the page-builder ourselves, and here we present to you, an elaborate Divi 3 Review.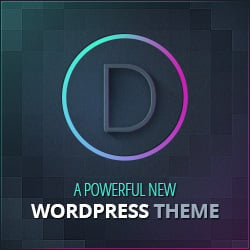 Summary Box
Visit ElegantThemes website and get a 10% discount (Limited Time Only)
Let's begin with look n' feel
We are sure these are the two most important factors that sort of contribute majorly towards deciding on themes that you choose for building a website. The better the theme, the wider is your scope to represent your content lavishly throughout the website.
Divi 3 is sleek, elegant, simple, clean and most importantly, a multi-purpose theme. So no matter what business the website represents, be sure of proper justice being done to every element.
It comes with an inbuilt page-builder that is super awesome and is super-easy to use, has a complete arsenal of ready-to-use layouts, and is code-ready, even to be used professionally by novices.
Whether you want to edit the pages you have created in the backend or (for the less tech-savvy users of your website) in the frontend, you can make use of the latest and greatest version of the Divi 3.
(Side note and essential read: If you need to hire a great WordPress developer, here's what you need to know)
Its device responsiveness and WooCommerce readiness are the sweetest features that knocked us right off. Dig deeper, and you might discover a few more that would knock your socks off!
Get a limited 10% discount from ElegantThemes
Better yet, v 3.0 brings with itself, a page-builder that we already mentioned earlier. This is one of the best theme-based page-builder, we have come across so far. So good, it deserves some juicy, elaborate description, reserved all for itself.
We have done that part too, in a later section of the review.
The customization panel
Version 3.0 offers you a simple customization panel with innumerable customization possibilities. Every element on your page or post can be taken good care of, and tailored in a conversion-centric manner by using making optimum used of the customizable features.
General settings helps you make tweaks to your main page elements like layout, background, and typography.
This ElegantThemes WordPress Theme also offers you detailed styling customization options.
Best part, you can customize the responsive look of your page. Make it look perfect just for any device!
The v 3.0 Visual builder – build your website in no time!
We continue our Elegant Themes DiviBuilder 3.0 Review with eulogizing about how simply the page builder has been crafted.
Even if you just installed the theme minutes ago, this page builder is dead easy. When you are going numb due to the huge number of sub-theme options but still opt to customize one of the themes your very own way, it would not take you more than 15 minutes to understand how the page builder works.
Its drag and drop mechanism makes everything flow like breeze.
You can add sections and modules, remove them, replace them, clone them, drag them to where you want them to be, do just about any possible thing, you could hardly do with any other theme. And all that, without the littlest coding endeavor.
The Divi 3 page builder also offers its users a stunning range of customized layouts. There are over 20 pre-defined layout options for you to choose from. One click and you are done!
Switching from one layout to another, in case you just happened to think differently the next moment, is fairly easy.
Just in case, you are picky enough not to still feel happy with all those pre-made layouts, you can create one of your own and save it up for using it in the future. That way, keep adding layouts, and you could avoid a lot of repeated efforts for your future websites and pages.
Yet another surprise pops up, when you go to add columns. There is an option to add special columns!!! Yay! Bingo! So that way, you do not have to choose from the same boring 2-grid or 3-grid column structures!
What's the coolest part about it? When you do add a specialty column, it gets all colourful! Another example of superior user experience conceptualization!
There is a section for custom CSS, which you can use, to inject your own codes into the existing elements in the Divi 3 theme. And that, my friend, would not break anything! :D
Best part, you would get an access to a whole gamut of 46 different content modules.
Oh! Did we forget the 'Split test' feature? Any novice designer would know that benefits of split testing… The pagebuilder has obliged us by not forgetting the magic that split testing can bring about in deciding the success of any website in its newest version.
So there is this module that you just slipped in a particular section. Maybe, you just wanted to see how another content module would perform, if you replaced the former one with this one. The 'Split test feature comes handy here. Right click and enable the 'Split test' tool. While you have your nose dug into the remaining of your webpage, the split test would keep running in the background and you will have your results in the stats section in no time.
We loved it!
Frontend PageBuilder or Backend: you choose what's best for you
One of the greatest improvements between version 2 and 3 is that the pagebuilder (or actually the user who is writing the pages) does not need to work in the backend.
Let's just think about this for a moment.
The beauty of a PageBuilder is its ability to construct pages on the fly no? Quickly dragging and dropping components to construct a page in no time at all. Yet, if you are in the backend of WordPress, the result is not going to be immediately visible to you. You'll have to update the page, reload the page you are building from the frontend.
More crucially though, is that in the backend you are guessing at what you are building. You can't really see the end result.
That's no longer the case with v 3.
The real v3.0 difference: watch your blog / page as it's being built
We want to continue our v 3.0 review with the thing we feel is most special.
When you choose to work with the Divi Pagebuilder in the frontend, you can see your page or blog post being built right in front of you. You can see the result there and then. This is the real beauty and the real difference with the new version of this Visual Pagebuilder from ElegantThemes.
This by itself makes v 3 the theme to go for.
Most of the users working with your website are not going to be fans of the backend. Even if you are familiar with WordPress, it's of course so much the better, if you can see exactly what you are building in real-time.
Here we are adjusting the Go to shop CTA button which we added in our Two Column (2/3 | 1/3) row.
Beneath the CTA button, we're also going to add a new module, Email opt-in.
And as you can see below, you can immediately see the result.
We can keep on going about this because it SO AWESOME. However, why not go and give it a spin yourself in the 3.0 demo below?
Languages and RTL
Your linguistic preference should not bar you from using the amazing stuff that this WordPress theme brings for you. The creators understood this quite well, and hence, they have made v 3, completely translatable into 32 different languages! Don't let your potential stay confined to just one part of the globe because of language restrictions anymore!
Security first!
Though WordPress is secure enough not to have website hacking nightmares every single night, we agree that there have been more than just a few vulnerable to cyber insecurities in the past few years. We are sure you have heard of it too!
Well, not with Divi 3! Its ultra-secure code takes care of your security concerns like no other theme. We don't, a code audit by Sucuri says so.
Documentation for User Support
Despite the simplicity that the Page-builder brings with itself, if you ever find any hiccup on your way, a detailed documentation is there to help you out. Crafted, keeping in mind, every situational possibility, the Divi Theme support documentation is sure to make it a cream ride for you.
The newest version, along with a plump undo icon right there at the top of all functionality boxes, users can simply go for a ctrl+Z or command+Z (for mac lovers). They have made it real easy.
Honestly, nothing more pretty and easy like the Divi 3 pagebuilder. And with each new version arriving, it is just getting better!
Of course, there are other equally well-functioning standalone page builders for websites to be created in WordPress! Try Pagelines if you want to get the feel of creating sophisticated WordPress sites, irrespective of what theme your website is based on. We reckon, read the review.
Who should Use This WordPress Theme / page builder?
Use this WordPress theme / page builder if you are:
An aspiring web developer, a non-techie who wants to set up a website, or a really lazy coder who would do just about anything to shirk elaborate coding.
And that is because v 3.0 theme comes with an inbuilt page builder that is super-easy to use.
It basically uses a drag and drop mechanism, which makes it easy for even first time users to come up with beautiful web pages in a matter of minutes!
A point here though, we do not really recommend it for use by a professional web developer. Divi 3 is mainly aimed at helping less tech-enabled people get professional results without some really serious investment into code crunching.
Other people have used it: Some Divi WordPress Theme Examples.
As part of this WP theme review, we like to back our claims with a lot of substance that might just be helpful to you. Here are few real-world theme examples of businesses, that are up and running. Notice the clarity and the professional touch that these websites have. It is difficult to make out that they did not utilize the skills of a trained designer and developer. That's the power of this webpage builder.
Divi 3.0 Price / Cost
87 WordPress themes squeezed into a package at $89!
Our next part in our review, is something you'll also need to consider - the price. The great thing is there isn't much to think about with Elegant Themes.
Well, let's clear the air a bit here. The v 3 theme is sort of a super set with 87 really cool sub set themes. So when you are paying $89, which is any way not a really huge deal for a theme that comes with its own customizing page builder, you actually end up getting access to 87 different themes to choose from.
That's cool, we think.
Although we must agree on one thing….while you get to use any theme out of all the 87, there is only a handful that are freaking good.
Still, not a bad deal, right?
Have a look at the following testimonial of Divi by Colorlib, the influential web design site.
"I am leery of calling any theme the best. But what I can say about Divi, it is a multipurpose theme with a powerful page builder for an online entrepreneur in any niche. This is certainly a theme that anyone who's interested in creating a WordPress site should have a look at."
Get it Now (with a limited 10% discount)

Divi 3.0 Demo
In this article, we tried our best to take as many screenshots as humanly possible to give you a full v 3.0 demo of its possibilities and functionality.
However, there is only so much we can fit into a single article, and of course, our images can never be as rich as the real thing.
If you weren't convinced by the images and screenshots we provided, there's still a way to try the theme demo out yourself.
Just visit ElegantThemes site (link below) and try it out for free on your own WordPress installation.
Here's what people have to say about their experience
Is there a little hiccup somewhere!?
We can't have a full Divi review without finding something which could be improved - because we wouldn't be factual. We like to tell it like it is.
Know about stuff called shortcodes? Seems it looms over the use of any plugin made for WordPress. Well, Divi 3 pagebuilder is no different there!
We found an article by Chris Lema, which says that once you use this plugin, you're stuck with it.
The article talks about how, because of shortcodes, choosing another theme someday, might just be a problem for this pagebuilder users. The theme/pagebuilder inserts shortcodes into your articles. If you switch away from it, the Divi shortcodes are going to be embedded in the content. And then, you would have to spend hours together to clean up the mess and begin afresh.
But then, there is also this refutation, which has an answer to throw back at Chris Lema. Brought out by Elegant Themes itself, the article talks about how you can overcome the drawbacks of the theme that Chris Lema has mentioned in his article.
Really and truly, if you are planning to use any pagebuilder, you are going to get shortcodes in your pages and articles. Whenever you use a shortcode, migrating away from that specific plugin is going to create a problem of needing to replace that shortcode within your pages and posts.
For us, the article by Chris Lema is much ado about nothing. This is standard WordPress functionality.
Divi vs Beaver Builder
There are many frameworks out there to build WordPress websites. Without a shadow of doubt, Divi is definitely one of the most popular and successful themes and page builders out there.
But it's surely not the only one. For example, while web designers have a preference towards Divi, web developers typically tend to prefer such frameworks as Beaver Builder vs Divi 3.0. This is because it gives them a bit more control and flexiblity than Divi.
There are many more points to discuss when it comes to comparing Divi 3.0 to Beaver Builder. In fact, we did just that and created a full comparison of Divi 3.0 vs Beaver Builder.
Recommended Reading: Beaver Builder vs Divi - Which is worth your money? (2017)
Divi vs Avada
This is the mother of all multi-purpose WordPress theme showdowns - these two are the most popular, most widely used theme + pagebuilder combinations.
As we've used them and reviewed them both, we can tell you whether we prefer using Divi vs Avada. Why not have a look at the below article where we give you our frank thoughts and compare them.
Recommended Reading: Divi vs Avada - Which theme is most worth it? (2017)
Divi vs Visual Composer
And because we like to be fully comprehensive, we also wanted to create a comparison between the two most popular WordPress pagebuilders, i.e. Divi and Visual Composer.
We actually wrote our first article about these two most popular page builders, as we were trying to decide what to buy initially. At this point, we've seen most of the WP page builders in action, so we can clearly say which of the two, Divi or Visual Composer is best.
Recommended Reading: Divi vs Visual Composer Review: Which Is Worth Your Money?
All said and done, Divi 3.0 is awesome!
And we can swear by it! The Divi 3.0 theme + pagebuilder has to capability to bring down the time, you would otherwise consume is creating complex codes. Most importantly, it is super-easy to use and creates beautiful effects on web pages and blogs.
They are promising a 30-day money-back guarantee! You stay risk-free! Use it once, and if you like it (which we believe you will), stick to it!
Want to supercharge your website?
  Our website loads FAST ... just 1.29 seconds. We're hosted on FAST InMotion VPS servers -
click here
to see our full review. We want YOUR website to be fast too, so we've gotten you an exclusive deal -
47% OFF
for CollectiveRay visitors + FREE domain! Click the button below to grab a bargain. (This is a limited offer - so get it while it lasts)