or The ultimate guide to creating your own Landing Pages with WordPress
If you've ever sold a product or conducted a lead capturing campaign on your website, you might have known how important creating WordPress landing pages are for your website.
By having specfic WordPress landing pages created, you keep your visitors' attention narrowly focused on call to actions placed in a page such as 'buy now' button or a lead generation form. It helps you entice your visitors to click on the call to action button by removing every distraction like external links or unnecessary info that might take your visitors attention away.
If you're selling a product or building an email list, you might consider creating WordPress landing pages on your website. Here are a few reasons.
Creating a WordPress Landing page helps you to increase conversion rate on your site
It allows you to effectively analyze and track your marketing campaign especially if you're buying PPC traffic.
With all the technologies available today, creating a Wordpress landing page is very easy. In this post, we'll discuss the following...
Creating HTML landing pages for WordPress sites from scratch
Creating WordPress landing pages using a third-party standalone service
Creating them using WordPress landing page theme
Design landing pages using a WordPress landing page plugin
Let's get started!
(Here's a Buy Now button to put you in the mood ;)
Bonus TIP:
Before going for landing pages, have you fully optimized your own existing content for conversion? We've found and reviewed the best WordPress popup plugin to enable you to increase conversions and build your email list really really quickly.
Method #1: Create WordPress landing pages from scratch using HTML + CSS
If you are good at designing pages using basic HTML and CSS, you can easily create a WordPress landing page and integrate it with your website. You can edit the content or tweak the design of your page on your own easily without any third person's help. Most of all, it's mostly free except for the time you spend of course.
Aren't you good at HTML/CSS coding? No worries; with websites like Codecademy.com learning to code is more fun than ever.
If you're not interested in designing and creating a WordPress landing page yourself, you can always buy a landing page template from websites like Themeforest.net or hire a web page designer to design a page for you, but we'll come to that later.
Follow the below tips before jumping in to create your own landing page using HTML/CSS for your WordPress website.
Follow your branding standards: While you shouldn't necessarily design a page that looks similar to your website, make sure you follow the same branding that you used on website on your landing page as well. This includes but is not limited to using your website logo on the page, using the same fonts and color palettes, etc.
Avoid external linking: It is recommended to remove the navigation and avoid external linking from your landing page. Your user needs to fully focus on the objective of the landing page
Have a Call To Action (CTA): you need to make sure you are asking the user to take the action you desire them to take. This can including a buy Now button, entering an email address, or other Call To Actions as you require
Once you have created a landing page using HTML/CSS, you can integrate it with your website by creating a custom page template.
Here's how to integrate the landing page with WordPress by creating a custom page template. Let's just call it our WordPress squeeze page (which is another name for landing page)
Step 1: Copy the code snippet given below to the top section of your landing page and save it as squeeze.php.
< ?php
/*
Template Name: Squeeze
*/
?>
Step 2: Upload the landing page files including the images, CSS files, etc. to the WordPress theme directory.
For example, if you're using TwentyFifteen theme, you'll need to upload the files to the following directory ../wp-content/themes/twentyfifteen
Recommended reading: How to access files like on WordPress dashboard like an FTP client
Step 3: In WordPress dashboard, under the Pages tab click on 'Add New'.
Step 4: In the page editor, add a new title to your page. Choose the template 'Squeeze' under 'Page Attributes' and publish the page.
Step 5: For further editing the copy or tweaking the design of your landing page, you can go to Appearance > Editor and click on Squeeze Page Template. Make any edits and click Update file.
Method #2: Creating WordPress landing pages using a third party service - LeadPages
LeadPages is a standalone landing page builder that helps marketers create, publish and test landing pages without the need of having any technical background. To create a landing page, you'll need to log in to LeadPages.net platform. Once the page is created, you'll be asked whether you need to publish it on the LeadPages platform or on your WordPress website. You can choose the WordPress option.
You'll then be prompted to download the LeadPages WordPress plugin if you're integrating the page with WordPress for the first time. Once the plugin is installed, you can manage and publish the landing pages you created on LeadPages platform right from your WordPress dashboard.
Here are the main benefits of creating landing pages using LeadPages over a WordPress landing page theme or a plugin.
Greater flexibility: Since LeadPages is a standalone landing page builder and not a content management system like WordPress, it offers greater flexibility over design and usability.
Marketing first: LeadPages is created specifically for internet marketers. Even if you're not a designer, you can easily create and publish a landing page in minutes, and you can focus on what you're really good at - marketing (that is, traffic acquisition, A/B testing and increasing the conversion rate). In addition, you can also integrate popular marketing tools with LeadPages landing page easily.
Unique features: With unique features like LeadDigits and LeadLinks, subscribing to your list is easier than ever.
LeadPages is a subscription based service. The prices start from $25/month. However, it offers a free trial for 30 days, which might help you to test drive the service.
Method #3: Create landing pages using a WordPress theme- OptimizePress
WordPress themes like OptimizePress are created specifically for creating landing pages. With its unique built-in LiveEditor, even if you're not a designer you can design WordPress landing pages in a matter of minutes.
The price starts from $97 for 3 websites. It is a one-time fee. Here are a few benefits of using OptimizePress.
Responsive landing pages: All the landing pages you create from OptimizePress LiveEditor are responsive.
Available in both theme and plugin format: You can use either the fully featured OptimizePress theme or use OptimizePress plugin on WordPress with any theme.
30 Built-in templates to choose from: You shouldn't necessarily design every landing page from scratch. Rather use a built-in template and modify it according to your needs.
Seamless integration: With OptimizePress, integration with third-party tools for email marketing (e.g. Aweber, MailChimp) and tracking tools (e.g. KISSMetrics) are a breeze.
Method #4: Creating landing pages using WordPress plugins
There are a lot of plugins that allow you to easily create landing page with WordPress. Here are a few benefits of using a plugin for creating landing pages over a theme like OptimizePress.
It works with any theme
Doesn't affect overall design of your WordPress website
Let's take a look at various WordPress plugins that helps you create landing page instantly on your website.
Free plugin: WordPress Landing Pages
WordPress landing pages is a free plugin that lets you create landing page for your WordPress website. The best thing is it also allows you to track conversion rates and run A/B split tests on your landing page.
Rather than creating from scratch, you can also choose from pre-made templates and customize it according to your needs. However, almost every pre-made template is small squeeze page and if you're looking to build a long sales page, you'll need to create it from scratch.
You can download WordPress Landing Pages here.
Method 5: Premium WordPress Landing Pages plugin: Thrive Landing Pages
Thrive Landing Pages is a premium WordPress plugin allows you to create flawless, high-converting landing pages almost instantly. You can also choose from 122 pre-made templates.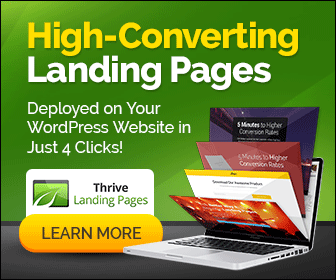 The price starts from $67.
Here are a few additional benefits of using Thrive Landing Pages.
Drag & drop style editor: The drag and drop style editor is so flexible that you can put the design elements wherever you want.
Easy to use: No technical background is required. Anyone can build a landing page in a few moments.
Regular updates: New features are constantly added and the plugin is regularly updated.
ListBuilder Integration: Typically one of your top goals of creating a landing page is to grow you mailing list. Thrive is excellent for it's integration of mailing lists with landing pages, and creating several custom popups to be able to target your customers better.
Which method is best for you?
When it comes to creating a WordPress landing page, there are a lot of different options available. So choosing an appropriate method to create a landing page can be confusing.
If you're looking to create a WordPress landing page for your site and you're confused with the different choices, here are a few suggestions that might help.
Create an HTML landing page if you're comfortable in tweaking HTML page. You can always pick from a template from sites like Themeforest.net or even hire a designer. Since the design isn't dependent on any landing page builder, you can tweak the page as per your wish. It is the best choice especially if you're looking for the cheapest method to design a landing page.
Create landing pages with LeadPages if you need a lot of landing pages to be created and require regular customization. Since it is a subscription based service, it is best suited for companies and individuals who need to create a lot of landing pages with a lot of variations quickly, and do not mind having to fork out a regular monthly price.
Choose OptimizePress if you're looking for a WordPress solution that allows you to create and customize landing page within your WordPress dashboard. And the best thing is the community is huge. You can even buy premium OptimizePress templates from the official marketplace.
Create landing pages using plugins so that the whole site design is independent of the landing pages you create. With premium solution like Thrive Landing Pages you can choose from 100+ different templates.
Have you ever built a landing page for your WordPress website? How did you create it and which method did you prefer? Share your thoughts with us by commenting below.
One more thing...
Do you have friends or a Facebook group who you think would find this useful? Share this with them and then let me know what they think.
Want to supercharge your website?
Our website loads FAST ... just 1.29 seconds. We're hosted on
FAST InMotion VPS servers
We want YOUR website to be fast too, so we've gotten you an exclusive deal -
47% OFF
for DART Creations friends + FREE domain! Check it out NOW!